Happy Happy Joy Joy.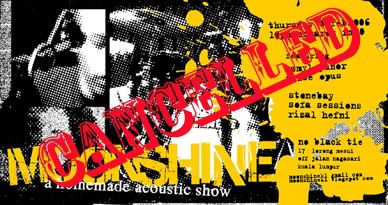 (Click the pic for a larger version)
:/// In accordance with the minimum required amount of anal retentiveness that must be exhibited by authoritative figures on a monthly basis, DBKL has decided to give local independant music venue No Black Tie lots of problems. As a result of these problems, the February installment of Moonshine (and a 2 day gig that I was planning to pull off that weekend) have been cancelled.

Unclogged

was the first to go.

All I can say is that I'm disappointed.
The
February
edition of
Moonshine
goes out to all the people staying in KL for
Chinese New Year
. Tough luck to the rest of ya! =). Another band populated line-up, its gonna be another night of acoustic mayhem. Yes, mayhem.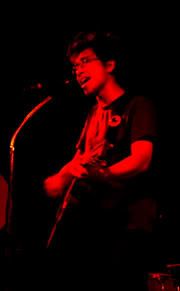 Azmyl Yunor
This grinning wild-haired journeyman has been busy as a gig organizer (He's one of the organisers for Troubadours) and an academic of late, juggling both duties on top of his singer-songwriter folker mode. Having played everywhere from street corners to main stages, alone or with various bands for the past 8 years or so, he released the self-funded
Tenets EP
in 2005 to rave reviews and is currently working on a full-length CD.
His witty onstage banter and gung-ho let's do it! attitude complements the down home music he makes and colors the weary characters that populate his songs. With the energy of a punk rock band, the raw and edge of a seasoned busker, and the happy-go-lucky attitude of the smoking guitarman next door, he'll definitely put a smile on your face.
He's assembled an evolving gang of musical banditos called
The Sigarettes
to back him up, so look out for some sepia-toned folk rock glee! More on Azmyl
here.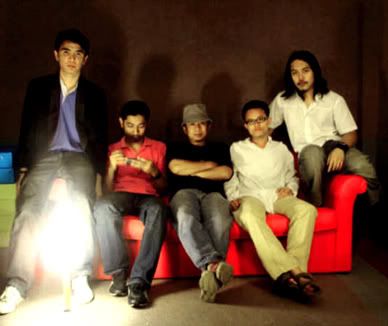 False Opus
Formed in mid 2000 and made up of Ewan, Kudux, Sadat, Syaril, and Waa, they were part of the whole Damansara/Colors gigging era which eventually led to them being featured on the
Another Boring Sunday
compilation. They've made appearances at shows such
Rock The World 4, Latte@8,
the
KL Menjerit
launch and the
Butterfingers Malayneum tour
, and they've recently released their debut EP which features the single
"Insomnia Girl"
. The single has received extensive airplay on
WOWfm
in the past few years.
I first saw them play toned down sets at the now defunct
Acoustic Jam
series, and their pop rock sound was a somewhat refreshing change from the usual angst-ridden style of music that was popularised back then. More on False Opus
here.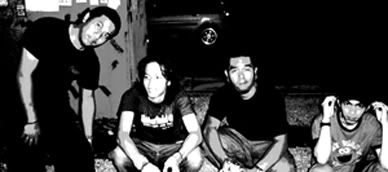 Stonebay
I first saw these guys on local indie music TV program Homegrown. Intrigued, I visited their
Myspace site
one day and looped the one song they put up. They sounded really good. Raw, well arranged, fronted by a very solid Seattle influenced voice (that would be frontman
Ojie
) and backed by a band members
Dicky
(guitar),
Roy
(bass) and
Hazreq
(drums). They've been gigging for quite abit around the Klang Valley, appearing in everything from college gigs to indie shows and the occasional rock fest. Semi hard guitar riffs and catchy melodies make up the core elements of this band's music, which centers mostly around Ojie's songwriting. Watch out for this one. More on Stonebay
here.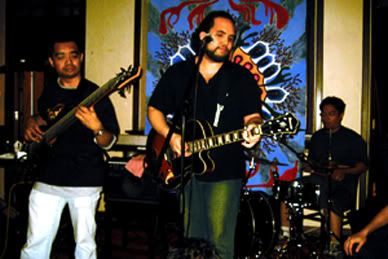 The Sofa Sessions


The Sofa Sessions are an independent musical collective made up of

Ariff Akhir

(lead vocals and guitar),

Shahril Eashak

(electric bass) and

Shahriz A E

(drums, percussions and additional vocals). Influenced by the likes of the

Red Hot Chili Peppers

, the

Rolling Stones

and the

Dave Matthews Band

, they've performed for the

2005 Sunrise Jazz & Rhythm Fest,

various

Music Canteen/Pan Global Insurance

tour road shows, the

KLue Starbucks Music Series

and many other independently organised live shows and private functions. Ariff himself is an avid performer in the local singer-songwriter circuit (I remember playing a really dodgy gig with him and

Az Samad

once). The band's currently recording a self-produced full-length CD which is expected to be released in the first half of 2006. More about the Sofa Sessions

here.

Ariff Akhir

Ariff won't be performing alongside his chilled out comrades this time around and will be braving the stage as a solo act. A perfectly natural thing for him I'm sure since he's done the whole singer-songwriter thing for eons now. Expect the same chilled out vibe he brings on stage with

The Sofa Sessions

(he is after all, the main composer of the band) and strap on for a ride down laidback, happy-go-lucky lane.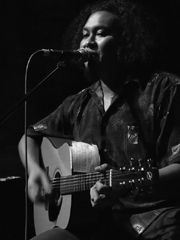 Rizal Hefni
Rizal Hefni is a somewhat of a newcomer to the songwriter scene here but has been playing for ages back in his hometown. Hailing from Singapore, this twenty something has got his roots firmly in alternative and rock but often likes to pick up the acoustic for more unplugged intimate settings. First apearing on the scene usually playing solo at several open mic's last year, this is his first time performing on Moonshine and he's bringing his gang of misfits to add some spice.