Holy cow it's September!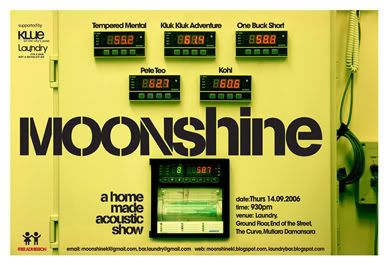 Forgive the slight lateness of this update as I've just got back from
Delta9
, the
Perhentian Island
party held last Saturday. All I can say is everyone should play a beach gig at least once in their life. I had a smashing time. Ok let's cut to the chase. Moonshine's this Thursday so mark you're calenders! I'm experiencing major post-island withdrawal so please forgive the very short write-ups.
Tempered Mental
Modern rock is what these talented musos do best, with each member (Melina on bass, Jimmy on drums and Jack on guitar) extremely proficient in the art of mind-boggling musicianship. Edgy, arrangement driven stuff served in a jar with a lid as tight as your auntie pam's leotards. They made an appearance at the recent Digi/Starbucks Music Series Finale at The Curve and were greeted with many looks of awe. Not to be missed.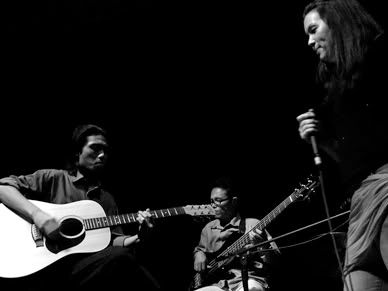 Kohl
An act that only recently got back into the whole gigging scene, this alternative rock act led by the whip-cracking Sara Lo recently played at the NBT Acoustic Series complete with their newly augmented line-up (they recently added a pianist and a percussionist to their ranks). Think Sarah McClachlan meets The Cranberries and they both go out for a nasi lemak.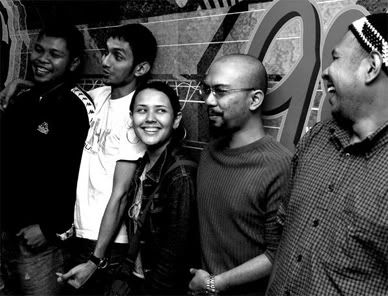 Kluk Kluk Adventure
Malaysia's own southern based ska pop band, I had the pleasure of sessioning (well trying to at least) for Keeta(Happy Birthday Keeta!), the lead vocalist, at Delta9 in Perhentian. Having just released their debut album 'Revolusi Minda Antarabangsa', they're currently on tour playing as many gigs as they can. Fun, dance-able and sometimes heartbreaking tunes are churned out by this 5 piece act, one of which ('Dia') is circulating on local radio station XFresh FM.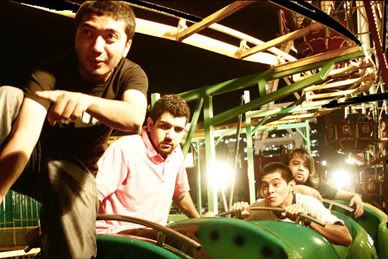 One Buck Short
A band that's been around, these self-professed fans of the So-Cal punk sound have played everything from Rock the World, the Asian X Games and more recently the Baybeats festival in Singapore. They first emerged amongst a sea of post-Seattle bands a few years back, providing a refreshing take on what was being played then. Expect alot of energy from these boys.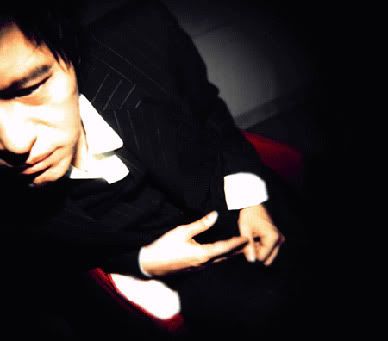 Pete Teo
Probably the most visible singer-songwriter around now, Pete was one of the first to spearhead the small but growing singer-songwriter scene here in KL. Musician, writer and organiser of the very popular Songwriters' Round (one of the gigs that served as an inspiration for Moonshine), you might have seen visuals associated with his newly released 2nd album 'Television' plastered all over town. No surprise there since he's one of the most hardworking musos I know. Bring your friends.
So there you have it. Another month, another show. Check this space soon for pics from previous shows and make sure you show up this Thursday!
Reza