1 Moonshine coming up!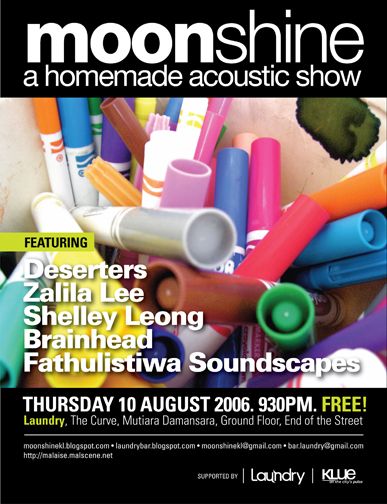 Moonshine
is slotted for the
10th of August 2006
and an interesting line-up awaits all you music fans so make sure you take the time to drop by. The show's been doing real good so far, with both the show and the establishment gaining quite a reputation when it comes to live entertainment. About 500 people came the last time but unfortunately unlike the show before that, Laundry didn't run out of beer =)(they're planning ahead now). Read about the next batch of performers below.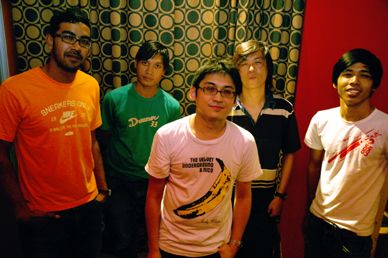 Deserters
Formed last year, KL five-piece Deserters trade in elegant indie rock songs populated by a blizzard of soaring guitars, drums, bass, keyboards, haunting melodies and a heightened sense of mystery and drama. Drawing inspiration from life, films, art and literature as well as the cream of the British and American alternative scenes, Deserters display an adventurous, smash-and-grab attitude towards musical history, producing their own invigorating take on contemporary indie rock with mind-jolting results. Although an undeniable love and respect for the virtues of classic songwriting underpins the band's sprawling, darkly melodic songs, Deserters are often compelled to forgo the tried-and-tested in favour of an adventurous musical outlook. When they hit their groove, Deserters combine to produce sonically refreshing heart music of fascinating beauty, a jaw-dropping fusion of circuitry and soul, melodrama and melody. Deserters comprise of Zack (vocals, guitars), Izuan (guitars), Edwin (bass), Jit (keyboards) and Alang (drums). Find out more
here
.
Note: You can tell I didn't write this =) - Reza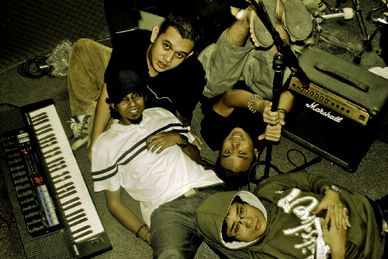 Brainhead
Formed in 2002, these 4 young lads have been around for quite some time, playing gigs in KL, Penang and Melaka. Influenced anything and everything when it comes to music, thay played their first show at a charity gig in Shah Alam, they've competed for a RTM's "Rentak Juara The Rhythm of Champion" and they have a single entitled "Dan Untuk Esok" floating around XFresh.fm. I actually heard these dudes play at the Fete De La Musique a few weeks back and was impressed with their full, pop rock sound. A new addition to Moonshine and a good one at that =)
Zalila Lee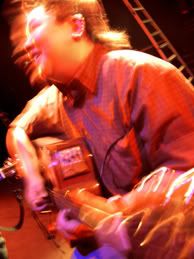 Appearing alot lately at No Black Tie for their live acoustic Wednesday slots, Zalila or Zal as her friends call her is a singer song-writer in many circles as well as a sessionist (back-up vocals, percussionist, and guitarist) in some. Started out when she was thirteen, she has since taken part in the Mont Kiara Jazz Festival, Fete De La Musique, and numerous singer song-writer stints across the Klang Valley. Sounding like a cross between Tracy Chapman and Alanis Morissette, this one gives me goosebumps when she sings. She also recently worked on the the controversial movie 'Lelaki Komunis Terakhir' but sadly her vocal movie debut can't be commented upon as the film has been banned. Her influences include The Cranberries, Lauryn Hill, and Alanis Morissette. Backed by a full band, this will be her second time moonshining =)
Shelley Leong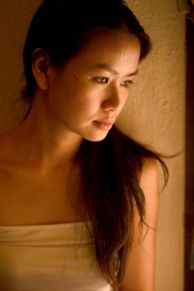 A very familiar face in the singer-songwriter circuit, she's back on her summer break from the Berklee College of Music in Boston. If you haven't already heard of her, her independently released album, Storyteller, got her nominated in the Best New English Artiste for the AIM Awards in 2005 and her eclectic blend of alternative folk, jazz and rock has garnered quite the following. Backed by her jazz band Jazz Odyssey which has the likes of acoustic guitar wiz, Az Samad, bassman Alda Tan and the grooviest girl on the planet, Stephanie Chan on drums, she's set to belt her heart out. More
here
.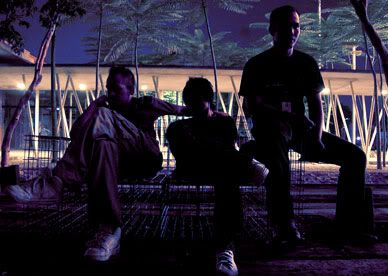 Fathulistiwa Soundscapes
Brought to life and fronted by indie scene veteran Fathul, these boys were featured in the recent singer-songwriter showcase KL Sing Song (which also featured Shelley) at the KL Performing Arts Centre. Fathul's endearing intensity is something you rarely find these days and coupled with what they call 'pop pontianak' (vampire pop) they're sets can prove interesting.
They've got an album out entitled 'Romantikarat' and in their own words its, "...like a meeting of 80s synth-pop (from Depeche Mode to Yazoo) with post-punk goth (Sisters of Mercy to The Mission) with early 90s indie rock (Curve) and also bits of hip-hop, dance and, of course, the recent Indonesian indie-rock sound that's taking over the country like the smog coming in from Sumatra!"
More info
here
.
See you there!
Reza