Tolonglah jangan hujan.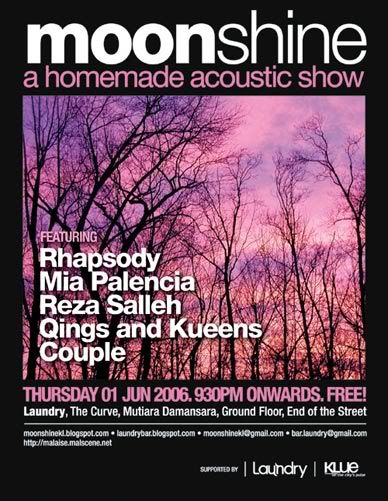 I'm hoping it doesn't rain this coming Thursday.
Even if it does, you won't have an excuse not to come to The Curve to watch the 5th installment of Moonshine. It's in a shopping mall for god's sake. With underground parking sumore.
A lovely line-up this month, we've got jazz duo Rhapsody taking the helm followed by abit of heart-in-blender folk by yours truly, pop rock action from Qings & Kueens, indie pop assaults by Couple and the vocal musings of the one and only Mia Palencia. Not a show to be missed. Check it out.
Rhapsody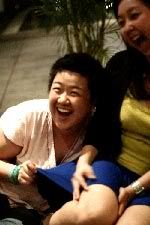 If you've tuned in to the local independent music scene at all, you might have heard of these girls. They only really started performing live in November last year and I'm proud to say that
Moonshine
was one of their first gigs in the independent music scene. Expect pop oriented tunes with jazz overtunes from this duo, a combination of
Ywenna
on keys and
Nicole
on vocals. They list Thelonious Monk, Ella Fitzgerald, Jamie Cullum, Alicia Keys and Antonio Carlos Jobim as some of their musical influences and have been showcasing their stuff in various shows around KL. More info
here.
Best served with chocolate sprinkles.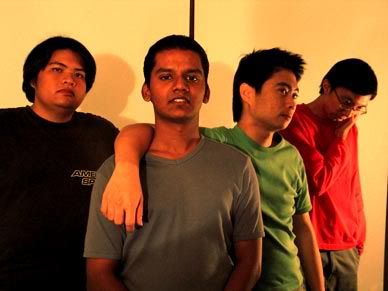 Qings and Kueens
Melodic rock anthems and yummy pop rock arrangements are the forte of these young talented musicians, and they've gone from playing at acoustic open mics to securing the No. 1 slot for 4 consecutive weeks in the Hitz Malaysian Top 10 chart with their single "We're Gonna Rock You". With their debut EP
"Royal Sessions"
they've been seen at Rock the World IV, the Asian X Games, and Hotlink road shows across the peninsular. More info
here.
Best served with digital delay.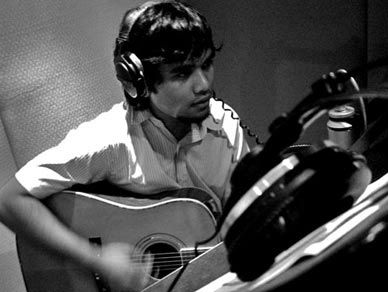 Reza Salleh
Bombarded with copious amounts of Top 40 gamma rays as a child, Reza owes much of his young singing career to the Seattle sounds of Nirvana, the rap-rock edge of Rage Against the Machine (how this is reflected in his music you'll never know and neither will he), the vocal stylings of Black American vocalists, and a whole list of other musical influences he can't really remember. Not really one to be bound by a particular sound, his music (labeled by a few as heart-in-blender folk) is a mish-mash of elements drawn from a combination of whatever's going on his head and whatever's he's been listening to in the past 10 years or so. Dark, heartfelt, confused. Blog-a-fied
here.
Best served with coffee.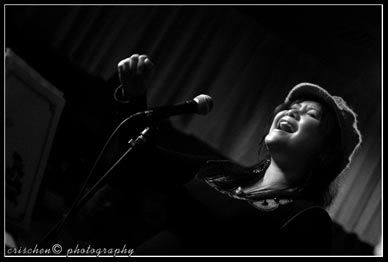 Mia Palencia
Without a doubt one of the best voices in KL, this girl was so hard to lockdown I changed the date for the show this month just for her. Yeap, that's how bad I wanted to feature the young talented lass. Jazz fans will know her as one half of Double Take, a vocal/guitar duo that had their last major show in a stadium (not alot of people can say that). If you've seen her play at
Pete Teo's Songwriters' Round
you'll know that she ain't all jazz and that she's got quite the flair for writing radio-friendly-melt-in-your-mouth numbers. You should be smacked if you miss this one. More info
here.
Best served dipped in chocolate.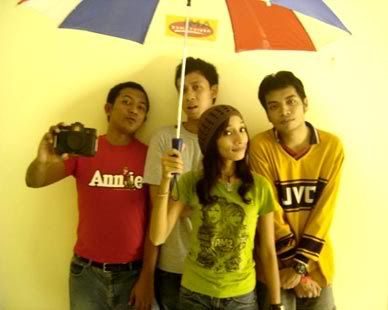 Couple
Happy-go-lucky power poppers Couple have been kind enough to play this Thursday and I must say I'm looking forward to seeing this 10 year old band kick it on stage. Infectious, refreshing and totally removed from all that's dark and dreary, they take take their cue from The Beatles, The Beach Boys, Big Star, The Who, The Raspberries, The Beat, The Rooks, Enuff Znuff and Weezer. They've released their debut album entitled
"Top of the Pop"
and they've got a kickass music video invading the airwaves. Check out their
myspace
site for an extended bio, merchandise, and the music video!
Best served with pop rocks.